We Guide You to Your Next Home
We're here to be your advocate and partner throughout the home buying process. Our mission is to provide you with a seamless and enjoyable experience.
From leveraging the latest technology tools to assist in your home search to navigating local and legal ownership requirements, we'll get you through with integrity and collaboration. The more complicated parts of the process are where we excel. Let us share our expertise and passion for real estate with you.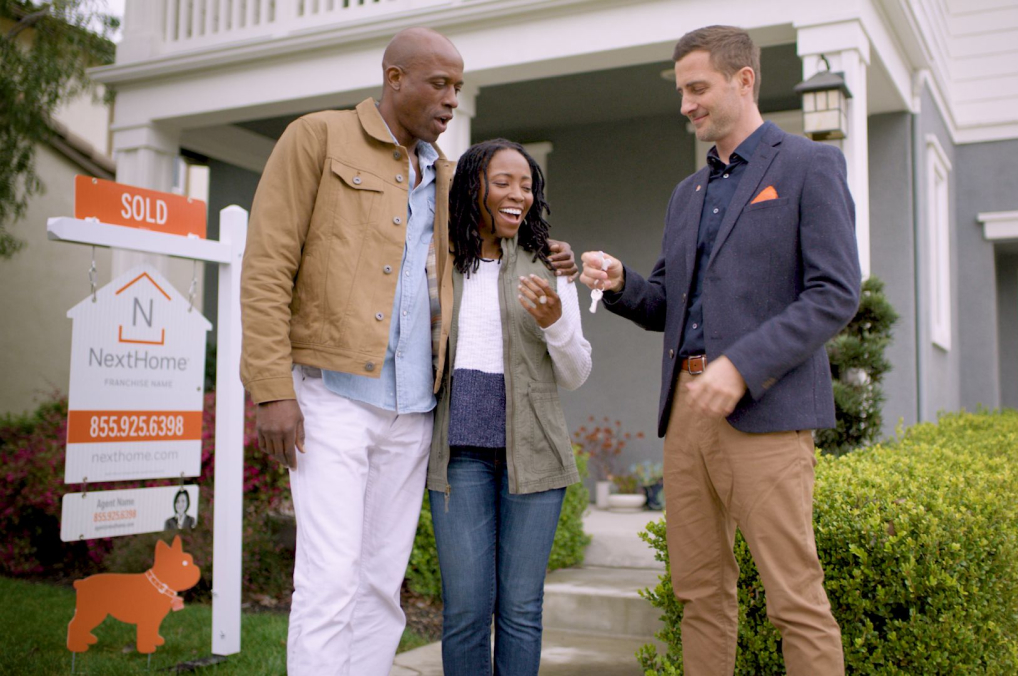 Buying a Home, the NextHome Way
Testimonials
" Thank you Derek for your excellence in finding me a home and being there throughout the process. Derek went above and beyond during and even after the purchase of my home. His attention to detail was awesome and any questions were answered in a timely matter as well. He continues to help out After the closing. I highly recommend Derek Patti as a real estate professional to buy or list your home. Thank for the great job Derek. John Blackmer "
- John Blackmer (Retired )
" Even though we were a lot to deal with, Derek was always very patient and professional with us. We would highly recommend Derek to be your Realtor of choice. He can be counted on to do a great job. James & Tina "
- James Sadrianna
" I would highly recommend Derek as your real estate professional. He always went above and beyond his responsibility to us. He was always available to talk, whether it was a phone call, text or e-mail. He is very knowledgeable and we always felt like he represented us. "
- Regina Jones
" Derek was a great help in maximizing our home sale, he guided us along the way. Lines of communication were open and easy to maintain. So glad Next Home was our realtors, we couldn't have done this alone. Thank You to Alex and Derek, "
- Gloria Griffin (Home owner)
" Derek did a fantastic job for us...listed our condominium and sold it in one hour, full price, furnished and buyers even bought our "Florida Mercedes".....when we hit an unexpected water leak one hour before closing he held it together, navigated the repair process with the Buyers and Buyers Agent. Great Job Derek! He is also very "techie"....us, not so much, but he was able to work through our "non-techie" ways. A good guy, good family man....we highly recommend him! "
- Nancy and Michael Falkensteiin
" Derek made the process incredibly easy and went above and beyond to ensure that the house in selling condition while I was living out of state. Very thankful to have had Derek on our team during this process. "
- Brittany Pleszewski
" Being from the Midwest, we were in search of a seasonal condo in Sarasota. Derek was recommended to us by friends who had worked with him before. We were immediately impressed by his responsiveness and knowledge of the market. His follow up and follow through made the buying process very smooth. We would highly recommend Derek for any opportunity to buy or sell. "
- Kelly Josephson
" Derek is one of the best, better than all the rest, Professional and kind and very aware of the current market and up to date on all the processes Of buying and selling properties, Derek takes care of business. "
- john dowdy
" Derek provided excellent service as he guided us through the purchase process of an investment property. He listened to our requirements and found several properties for us to consider quickly, which allowed us to complete the transaction before the year's end. Derek was infinitely patient and worked tirelessly to make sure everything went smoothly with the seller's agent, the lender and especially the condo association. His attention to detail and responsiveness to our questions was greatly appreciated -- Derek is a true real estate expert! "
- Jean Contillo
" Derek exceeded our expectations. He asked detailed questions so that he was sure he understood what we were looking for, he is a great communicator, he provided information about the areas we were looking in, and he continues to support us as we go through the process. He has been a pleasure to work with and we would highly recommend him. "
- Steve & Lynn Amarante
" Derek was AWESOME! He is professional, courteous, attentive and worked hard to get critical info needed to close our real estate purchase on schedule. He was always focused on our interests and followed up with us during each phase of the buying process and was extremely responsive when we had questions or comments. I would recommend Derek to help with ANY real estate transaction. "
- Ron Contillo
" Derek proved to be a consummate professional throughout our home search in Florida. Thorough and informative, he provided extensive insight into both the markets and Florida specific issues and opportunities. As out of state clients, Derek went above and beyond throughout the entire process, from our initial visits and home search through the entire purchase and closing. Personable and responsive to our questions and needs, we would strongly recommend Derek to anyone seeking assistance in the Florida real estate market. "
- Louis and Kimberly Gagliano (Clients)
" I am from the Southern Tier area of NY. I first met Derek three years ago after he was recommended to me by the person we rented an AMI condo from for a week. Derek sold her the condo earlier in the year. We had come down looking to buy a single family home as a secondary residence. He showed us several properties I had found on various platforms and a few that he had found as well. I did not expect to fall in love with a condo at Palma Sola Bay Club but I did! Derek suspected that it may be a good fit for us as an initial investment and added it to the list of showings. We bought there that same week! Fast forward to now, we were ready to move to a single family home after getting our feet wet in the Bradenton Real Estate market! I called Derek, he listed the condo immediately, with the best professional photos and video! He featured it on his internet presence and it sold in a matter of days! The search for our new home was then on in earnest. We again looked at several homes, in the span of a few days, before finding this beautiful fit. This man has a wide network of professional resources, does his homework and gives you his full attention. He is an excellent communicator, admittedly, I am high-strung and require a lot of attention. Derek never faltered, providing guidance and support through every step of the process. If he didn't know the answer, he knew who to ask and responded promptly after learning it. To date, that is three transactions he has handled for us and everyone went smoothly with no surprises. I know being a Real Estate Professional is not an easy job but this man makes it seem as though he was born to it. We will recommend him to any and all we meet. I can't imagine that there is any better in Sarasota or Manatee County! "
- Desiree Cole (VP of Underwriting)
" Derek has been one the most professional, experienced and one of the most thorough Realtors we have ever worked with. The whole process was absolutely one of the smoothest transactions we have ever had. He has sold us two condos on Siesta Key and currently has one listed for us. We would not hesitate to recommend him for all of your real estate needs! "
- Andy and Terri Garver
" Derek Patti is outstanding! Not only is he extremely knowledgable of the Florida real estate market, he was a wealth of resources for just about everything related to the buying process: from insurance and inspections to rental management and restaurant recommendations. An extremely hard worker, always positive, never pushy, and very calm. We were so grateful to have worked with him on purchasing our dream property! "
- Jill
" This is our second home we buy with the help of Derek. He's very professional, answers all the questions we have right away and guides you through the entire process. You really do feel that he's part of your team and wants the best. We can recommend him to all our friends and family and if there's a third home, he'll be there for us as well. "
- Abel Perez
" Derek was absolutely amazing throughout our entire home buying process. He is patient and knowledgeable. He will work extremely hard for you and your family to find the perfect. We could not have had a better experience and will definitely be using him for any of our real estate needs. "
- Grant Mullet
" We really enjoyed having Derek guide us through our search,negotiations and purchase of our home. Derek patiently allowed us to come to our decision, while offering his input from others experiences. This was the second home Derek has helped us purchase, both were handled with professionalism and care. "
- John and Mary Hinderer
" I have known Derek for several years now. He has helped and a good friend with 4 real estate transactions. Both my friends and I feel Derek is an honest, hard working agent with his clients best interest first and foremost. I am comfortable recommending Derek if you are buying or selling. "
- John T. Hughes
" We undertook an adventure when deciding to purchase a new build home and move completely across the country, but Derek helped make the process as easy and smooth as it could have been. He has expertise and experience in the area to give insight on the value of your purchase, but was not pushy trying to oversell us or tell us what we wanted. His responses to any of our questions or issues were timely and professional. When the builder was slow to provide updates or answer questions Derek got on them, sometimes pinging them for a status update without us asking. Since we were starting the process remotely he also provided photos of updates and went above and beyond taking photos of the open interior walls for future electrical use when the builder wouldn't add low voltage/ethernet wiring as part of the build. He helped answer any questions we had on part of the process or items that were specific to Florida we weren't familiar with. He was also meticulous and spotted some fees on our closing disclosure that were different from the contract, saving us money at closing. Derek Patti is easily the best realtor we have worked with and we would highly recommend him! "
- Matthew & Angela Yauch
" Derek is a true professional and I was absolutely thrilled with working with him. I would recommend him to anyone and already have. You will not be disappointed! "
- Kathleen Martin
" Derek is always optimistic, timely, and professional. I just bought my second house using his services and he had the patience and foresight to advise me to offer a lower amount than I would have and he was right in doing so! Highly recommend. "
- Katy Snell
" Derek was very knowledgeable about the whole home buying experience. Told him what we wanted and found the perfect fit quickly. We are so happy and recommend him to everyone we talk to looking to purchase a home. "
- Eric and Kristin Treat
" Derek is wonderful. I met Derek seven years ago. I live in New England and would come down for two weeks out of the year, he would show me houses every time. I finally decided on a property in Venice, just this year. Derek helped me every step of the way. He is kind professional and honest. I highly recommend Derek, It's refreshing to do business with someone who really cares. "
- Elizabeth Rapolla (Business owner.)
" Great job. Told Derek what I was looking for, couldn't find a new community 55+, & Derek sent me info on Cresswind. My husband & I took a ride to see it & were we pleasantly surprised. Exactly what we wanted. Derek was available for any questions I had, gave great advice. I was very pleased to have Derek as my agent. I would recommend him to anyone wanting a professional, qualified RE agent to guide them on any RE needs. Thanks Derek. Ray & Lynn Lake. "
- Lynn Lake
" Derek did an amazing job helping us buy our house from out of state. He helped educate us about the area, schools & neighborhoods, assisting us to find that perfect fit. We were confident that he understood what we were looking for and purchased our home after only his video tour. Derek was generous with his time, always willing to go above and beyond to help. "
- Tom and Virginia Hodge
" Recommended through a friend Derek became our Real Estate agent after a disappointing experience with another neighborhood agent. Derek proved to be the best choice for a hardworking, driven, personable and reliable real estate agent in SWFlorida! He brought in a professional photographer to take photos of our property and boy did they make for a great listing! Even during the covid-19 pandemic Derek continued to reach out to buyers and show my home vertically. Because of this we received a "sweet" offer above our listed price and Sold! My wife whose a teacher commented that "Derek really does his homework " when it comes to marketing. If you want to sell your home and to feel as if you are the only client that Derek has then choose Derek Patti to sell your home and property. "
- John Corso (Retired Home Owner )
" Derek was exceptionally patient in our home buying process. Always professional and on time. "
- Shawn C
" There are no words to adequately describe what a credit Derek is to his profession. He is extremely responsive, knowledgeable of the Venice area, patient and very honest. We were not able to visit the area due to Covid so we had to do everything remotely. After many months of on-line searching, emails, phone calls and zoom chats, Derek found us exactly the home we were looking for in a very desirable area. The first time we saw our home in person was the day of closing. We were not the least bit concerned because that's how much we trusted Derek and his expert opinion that this was the right home for us. He is a genuinely wonderful person and we were so thrilled to finally meet him in person and thank him for his monumental efforts on our behalf. One thousand stars for this exceptional gentleman!! "
- Angie O (Retired)
" Derek Patti is an extremely competent Real Estate Professional. Derek responded to all of our questions and concerns with easy to comprehend explanations. Derek is a master at making first time, out of state buyers feel comfortable and aware of the buying process. Derek professionally responded to all of our concerns on a timely basis. He was always on time and kept us well informed. Derek is a ten out of ten super Real Estate Professional whom we'd highly recommend to anyone. Peter DePaola "
- Peter DePaola (new home buyer)
" This was the 4th home that I have used Derek as either my buying or selling agent. Since it's been 4 times, it's should be very apparent that he is a remarkable agent in all aspects and anyone would benefit greatly from his expertise, timeliness and great communications. You can't go wrong with Derek. "
- Mike Lithman
Previous
Next